---
What is a VoIP Number?
VoIP stands for voice over IP. Simply put, it's "voice" calling through the internet. A Voice over Internet Protocol for your VoIP phone number is the number given to you when you sign up for a VoIP service.
Essentially, it is the series of digits you enter on a dial pad to make a call. This is similar to traditional landlines. Except, unlike its traditional counterpart, a VoIP phone number can be used for phone calls from any internet-enabled device such as:
Desktop

Laptop

Tablet

Smartphone

VoIP phone
As long as there is an internet connection, you are good to go!
On the other hand, traditional phones are assigned a fixed physical location, telephone line, and a device by their phone company.
Yes, a physical PBX means desk phones can still route calls.
However, routing is limited to inside the office building.
With traditional landlines, a pair of copper wires run from a box on the road to a box at your house or office. From there, the pair of wires or adapters connect to each phone jack in each room or department
Landline VS VoIP Number
In a 2020 study, it is determined that 40% of American households no longer have a landline number. This suggests that landlines won't be advancing any further.
The fact that it is becoming obsolete is perhaps the biggest reason to make the switch.
Landlines connect phone numbers to a local PSTN or POTS telephone network. This network uses copper or fiber-optic wiring to deliver analog voice data to and from the person you're speaking with.
Traditional phones are known for their reliability. For example, it provides security in an emergency with reliable 911 communications and works even during an electrical outage.
The sound quality and clarity are also quite superior. Whereas a VoIP call quality depends on how stable your internet connection Is and the amount of bandwidth you have.
Although, having a landline number does have some significant drawbacks.
First, they might not be a match with current office setups. Regular phones do offer basic telephone features similar to what VoIP technology provides.
Having a landline number and PBX can include voice messaging, conference calling, caller ID, and even call waiting. However, these features will come with additional charges.
There's also a big chance that they can't match the quality virtual phone systems provide. Regular phone services cannot offer more advanced features such as visual voicemail, voicemail to email and video conferencing, and other needs for business communications. Most VoIP services offer more services to suit most business needs.
You might think that standard desk phones cost less than VoIP telephony. Yet, it could actually cost you $800 to $1,000 per employee!
The price could go up due to the following:
price of the physical equipment

call charges (local and long-distance)

additional lines

additional charges for features
Plus, at a time where minimalism is the trend, the equipment isn't just costly —it also takes up a huge amount of office space.
What is a VoIP Number and How Does a VoIP Number Work?
If you are worried that you don't have the technical know-how, you'll be happy to know that VoIP phones are essentially plug-and-play.
Switching won't require much of a learning curve.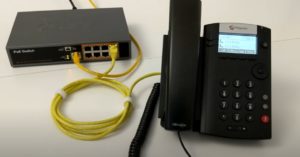 The Power of a VoIP Phone Number
Now, let's find out the benefits of a VoIP Phone Number.
Because clients can reach staff anywhere with just the online number, a VoIP Phone Number offers a higher level of privacy.

What is a VoIP Number and the Mobility & Convenience with VoIP Phone Numbers
Employees will have more mobility while waiting for urgent calls to come in.
Plus, VoIP numbers make it much easier for callers to reach your staff. This keeps your sales and customer service in check.
Imagine the convenience of being able to contact anyone across the world, at any time, using any device.
As long as you have a stable internet connection, making calls, as well as managing calls and business numbers becomes easier.
What is a VoIP Number and why you get Scalability
What if you opt for a hosted service? This won't be a problem at all.
With a VoIP phone system, setup and maintenance are already included. All the basic and advanced features you need for a streamlined communications system can be done with ease. 
Normally when your business grows, your communications infrastructure size up as you add more users. In a traditional phone system, this equals acquiring new servers, wiring systems —and additional cost!
With a VoIP number, this problem would not exist. If you think the hardware price will go over the budget, then don't buy new ones. It's not like you really have to buy an IP phone for the service to work.
You can use existing devices or use softphones instead.
What is a VoIP Number – The Different Types of VoIP Phone Numbers
Another impressive aspect of having a VoIP Number is style. Virtual phone numbers let you choose from different types of numbers. 
Local Numbers & Choice of Area Codes
Local number and area code assignment is excellent for businesses that have locations in multiple cities. First of all, local numbers diminish long-distance charges.
Local access numbers make it easier for callers to connect with staff or agents nearby. Furthermore, it helps build the trust of the local community.
Toll-free Numbers
Customer service and customer support are some of the most important aspects of a business.
Speaking of service, a toll-free number could make things easier for your customers. With a toll-free number, they can call from anywhere in the country for free.
You can choose from a variety of toll-free numbers, depending on your service provider. This way, getting in touch with your company about concerns will be easy.
You can even choose the famous 800 number prefix! Now, you can advertise your company's availability to solve your client's problems.
Vanity Numbers
Another option is a custom vanity phone number. A vanity phone number is a sequence of numbers that is easy to remember.
Not only that, but it makes for some solid company branding, such as 1-800-NYC-PAINT.
What is a VoIP Number and Why Make the Switch to VoIP Phone Numbers
Would it cost you hundreds of dollars to make the switch?
Of course, this depends on the size of your business.
Again, you can use an existing device to make calls. You don't have to buy any new equipment at all. This is already an opportunity in saving money.
The majority of VoIP plans already include unlimited local calling. Meaning? You don't have to worry about additional charges on your bill. To add, VoIP service providers usually add a fixed amount of free long-distance minutes per month.
Generally, there aren't any setup fees, and advanced features are included within the monthly price. This means that there won't be any surprise charges on top of the monthly subscription you're already paying for.
What is a VoIP Number and why it's Cost-Effective
These VoIP phone systems are also scalable. This implies that you don't have to pay for features or extra phone lines that you don't need.
Virtual telephones offer a cloud-based Private Branch Exchange (PBX) service that lets users run their entire telephone system over an existing online connection. Companies that switch from traditional phone lines to a VoIP service can surely expect huge savings.
What is a VoIP Number and why it's  High-Yielding
What is a VoIP number about? Clearly, it is a very practical solution for businesses.
Especially those directly involved with their clients, like restaurant chains and retail.
VoIP phone systems support a lot of features. Here are a few features you might be interested in a VoIP phone system:
video conferencing

SMS

virtual voicemail

free long-distance call service

sharing a phone number

make a call using multiple devices

receive calls from using multiple devices

call routing (skills-based, priority, etc.)

online faxing

call analytics and reporting

IVR auto attendant
Imagine how much your business will improve with a VoIP number instead of a landline.
Do you think a VoIP phone number is something your business would need? Let us know in the comments below.